CHANGE THE PROCESS
I am a retired USAF pilot who attained the rank of Lieutenant Colonel. I understand mishap investigations, professional cultural issues, and the training and discipline of a profession that uses deadly force. Most importantly, I am a father who lost a son due to problems associated with the current law enforcement culture and training.
The Problem
Wisconsin Statutes regarding law enforcement are the oldest in the nation (125 years) and do not provide for a centralized professional review, called an External Professional Review.
Currently, these statutes give each community "Home Rule." This means that local police review themselves with bias at the departmental level, called an Internal Organizational Review. The local chief then passes judgment on the performance of his organization, his own policies, and his own abilities. With "Home Rule", self review policies can change frequently or on a case by case basis.
There are no external checks and balances to maintain objectivity in the current investigative process. This procedure negatively affects training and culture in a multitude of ways.
There are no elected officials held directly accountable for law enforcement culture.
District attorneys, overworked and understaffed, work daily with officers on investigations and are reluctant to upset the close relationship established among them. Additionally, DAs do not want to put voter or police union support at risk with an inquest or charges against officers. Any decision regarding law enforcement directly affects a DA's electability.
Blood samples to determine if any substance influenced the critical thinking of an officer's actions contributing to death are rarely taken or admissible.
Local police and fire commissioners are appointed by a community leader and are reluctant to speak against the city (civil liabilities), the authority of the District Attorney, or the police chief. These commissioners rarely possess the skills or training needed to review officer related fatalities.
Police and Fire commissions do not have budgets to conduct outside investigations. They rely solely upon the department involved in the fatality for collection of evidence and investigation. State statutes do not require an outside monitor.
The following solution addresses each problem stated above. It is modeled after the National Transportation Safety Board and the United States Air Force Mishap Investigation Board, is a departure from aged 19th century thinking of self investigation.
The Critical Incident Review Board
The Critical Incident Review Board consists of a five member panel composed of two police chiefs or assistant police chiefs (or other senior law officer), two criminal justice/law professors, all either active or retired and a former judge or District Attorney. This board is appointed by the Wisconsin Attorney General to review a police incident that has resulted in death. The police chief of the municipality in which a fatality has occurred would not be allowed to serve on the panel to review his/her organization, yet would be allowed to conduct an internal organizational review.
In addition, a special prosecutor would be assigned to the Attorney General's office thus removing direct election pressure to prosecute any findings by the CIRB.
Professionals in law enforcement (educators, attorneys, prosecutors and officers) must review law enforcement. Yet it is important that those with an institutional stake in the outcome remain outside the review. In order to maintain objectivity, local law enforcement, monitored by outside law enforcement, would collect evidence and pass the detailed investigative findings to the Critical Incident Review Board for analysis and recommendations. After the CIRB review is complete, the Board passes its findings to the Attorney General (special prosecutor), the local chief or sheriff and the District Attorney for accolades or, if necessary, disciplinary or criminal charges. The benefits include the following:
A senior elected official is directly held accountable for state law enforcement culture
Law Enforcement reviews itself (professional external review)
The District Attorney and the local police chief are removed from the pressures of making objective decisions affecting current organizational and voter/union relationships
The review process involves many external and internal personnel to ensure the integrity, objectivity, and fairness of the process
This process establishes checks and balances assuring the highest standards in training/culture
Maintains civilian confidence in law enforcement and discourages misconduct or maladministration.
Reduce the number of officer involved shootings and officer related deaths
Please write a letter to the Department of Justice and FBI asking that they investigate the Michael Bell shooting and help change how Wisconsin investigates Police fatal shootings and in-custody deaths.
US Attorney James Santelle
517 E. Wisconsin Ave Suite 530
Milwaukee, WI 53202
Office (414)297-1700
Fax (414)297-1738
FBI Special Agent in Charge
Patricia M. Ferrick
330 E. Kilbourn Avenue Suite 600
Milwaukee, WI 53202
Office(414)276-4684
Fax (414)291-2400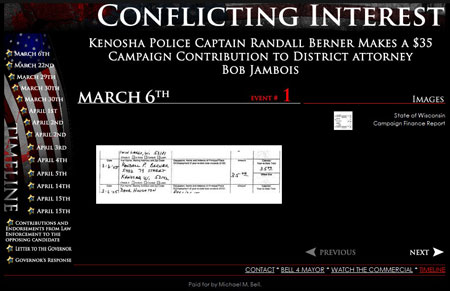 www.conflictinginterest.com